So you call yourself a gamer? Maybe you're serious about all things video games and want to get into streaming. Or maybe you're just starting out and just want to get in some casual gaming but don't know where to begin. Either way, the next most important thing you need to evaluate after your computer rig is how you set up your gaming station. This is your control, this is your command center. It must be tailored to you, the captain. Only then will you reign as gamer supreme. Or you know, at least be comfortable to play for a few hours.
Now before we go pimp out, and drop an absurd amount of money on some top of the line gaming peripherals, there are a few factors we must look at.
 When shelling out any money for our gaming sanctuary, we must ask ourselves a few questions:
How much space am I working with? This will determine things like the size of the desk we would be using, external peripherals, the size of a gaming chair and general layout. Read more about gaming gear for more tips about your set up. A good desk to invest in that addresses these factors is an L-Shaped Desk, as it is great for space, movability, and component storage.
We should also know what gaming purpose we would have. Will this be a streaming station or just a casual setup?
Additionally, budget will be a big factor in assessing the quality, size and functions the unit may have designed.
So now that we've answered a few initial questions, we can dive deeper into the reasons why and how that factors into our gaming needs.
Space on and around your table
When questioning space, we try and figure out what the layout we are working with. This determines the size of the unit we use, which would then in turn adjust what type of components we can incorporate. It would also determine the level of comfort we may have for long term gaming.
Do we have only a small space to work with? We still need to ensure enough space for our computer or console, and monitor or television. Also, a gaming chair would benefit long sessions, but if the space does not allow for that, then any comfortable office chair may be suitable if we can fit that in. Adjust your gaming session accordingly.
Many young gamers won't have the desired space for a full set up. So they have to make the most of their space. You will need to have enough room for your TV and console or computer and monitor, as well as ensure you have enough room that you are a few feet away.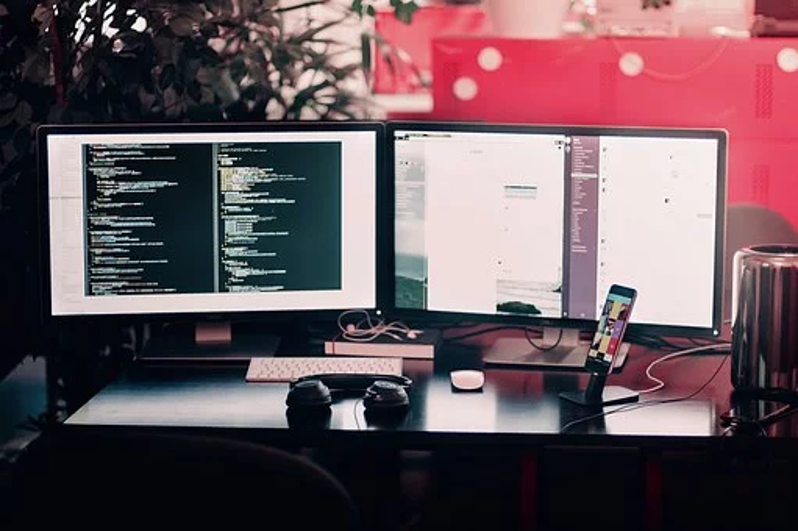 Movement space
Movement is key, no matter if we are gaming casually or seriously. The average gaming session is 1 hour and 20 minutes with more serious gamers putting in more time well above that average. We want to make sure we have enough room to maneuver during gaming sessions with a full range of motion and be comfortable the whole time. What can help is having everything organized, and position for optimal spatial use? Is there room for a second monitor? Is there enough space on my mouse side to operate? We need to ensure these points are addressed.
Airflow
We cannot forget proper airflow and ensuring your gaming unit has enough breathability. This goes hand in hand with the organization and build of a proper table and the positioning of our components. We want to make sure we have airflow for our towers, monitors, consoles, as well as ourselves, to prevent overheating.
Lighting and wires
Lighting is important to consider as proper lighting will help with long term monitor use. A large enough table will allow for a desk lamp if required, whereas a small, more space efficient unit may allow room for a floor lamp.
Consider the layout of your setup importantly. You won't want loose wires getting in the way.  Ensure enough plugs, well equipped with surge protectors, are around for your entire console or computer setup. And keep in mind the storage space you would need and have access to. If you know your gaming sessions can get intense, you'll want to have room for things like extra controllers, chargers, spare batteries, headphones, microphones, etc.
The reason L Shaped Gaming Desks are a great option is that this will allow the most functionality and space, no matter what type of gamer you are. The ample space will allow users to set up their layout in a tidy and clean manner, allowing for great movement and airflow for your whole gaming setup. If you are streaming, you'll have plenty of room for multiple screens, great lighting and cameras for your streaming goals and needs. If you are casual, this design would easily double as an office space. And with little clutter to distract you, you'll be able to transition from gaming to editing or working seamlessly. Congratulations, you're set to begin your gaming journey.