When you finally get the opportunity to move to a new home, it feels like a new beginning. You're excited and eager to set the house up exactly the way you want, and it's important that you have all the tasks at hand in order. Something that can be a bit perplexing at times is determining which appliances you need to focus on getting, and which ones are worth investing in. 
It may seem like a simple enough task, but as you get to it, you'll find there are so many options available and it can be pretty difficult trying to narrow down what you need, the good from the bad, and the details that suit you best. This is why it's important to do your research before making any decisions. Going through reliable reviews on Appliance Reviewer is a great way to start. By doing so, you'll be going down the right track. 
To make it that much easier for you, we've created a list including all the must have appliances that you need to prioritize as you move into your new house. 
Refrigerator
There's no question about the fact that having a high quality fridge needs to be at the top of the list. Getting a two door fridge with added features is certainly worth the investment because by doing so, you guarantee that all your food is kept well. You need a spacious fridge because at any given time, you may have to stock up on goods, and the worst thing that could happen is not having enough space, whether it's in the fridge or the freezer. It's important that you invest in a fridge that has great reviews and also has a warranty so that you can guarantee its quality and longevity as well. 
Stainless Steel Dishwasher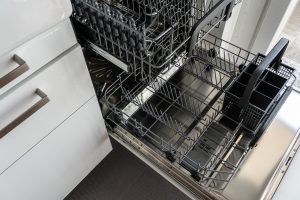 Getting a dishwasher is high up on the list as well because while most people find it manageable to wash the dishes by hand, you'll find that sooner or later, you will need to invest in a dishwasher. You may also be concerned with conserving energy, but you'll find that many of the latest designs are eco-friendly and energy efficient. It makes much more sense to have a stainless steel dishwasher in particular because they last much longer.
Water Heater
While the kitchen is probably the one area in your home that would need the most appliances, don't forget that there are other essentials that cater to the whole house as well. It's important that you invest in a proper water heater that can supply sufficient hot water to your bathrooms and your kitchen as well. The worst thing would be to move into a new home with no hot water available, or a heater that isn't of the best quality and keeps getting spoiled.
Washing Machine
You don't want to hold back when it comes to getting a washing machine for your new home. Look into reviews to understand which ones would be considering your needs. Think about how much washing you'll need to get done and the load, and also think about the features involved. Don't forget to get an energy saving option, as well as consider investing a dryer as well if you feel you might need it. 
Air Conditioner
If the home you're moving into doesn't have central air conditioning, then this appliance is extremely important to invest in as you move to your new house. Don't put investing in this appliance off until the summer time if you're moving in during the winter. You'll actually find that you might get better deals during the winter. Getting a quality air conditioner is essential because you want something that will last you for years, has a good maintenance service, and is energy efficient as well. 
We all know that the number of appliances seems endless when moving into a new house. The list we've provided here are the bare essentials that you need to not compromise on when it comes to quality and longevity. You know that it is a worthwhile investment when a product has really good reviews and offers the features that are convenient and cater to your needs. You'll find that the majority of the quality brands out there now design appliances that are environmentally friendly and energy efficient, so you'll be able to make a wise investment that gives you quality and saves you money in the grand scheme of things. Always do your research before making any decisions when it comes to the important appliances that you need for your new home.