If you've ever experienced moving into a new home, then you're well aware that the process comes with a surplus of emotions and responsibilities. Of course, you're excited, but you're probably also incredibly stressed because there's so much to do within a certain span of time and it is imperative that you do it right. The good news is that you don't need to stress right off the bat because there are ways in which you can make the move completely hassle-free.
This is why we've made a simple guide that will help move in the most organized way possible, keeping the experience the way it should be- fun, exciting, and stress-free!
Find your moving company early on
The first thing you need to do is get down to some research to find yourself a decent and reliable moving company. According to the people behind Moving Company Reviews, people in need of movers should always be on the lookout for testimonials from recent clients of every company you are considering. This will ultimately lead you to make a knowledgeable decision. It's a real giveaway because you can tell that if a company has great reviews, many people have tried out their services and are happy with them. Once you contact the company, talk to them about how many appliances you have, how big your old and new spaces are so they can help in estimating how much work needs to be done. Some companies even provide you with the boxes that you can pack your stuff in.
Get the materials needed for packing
Before you begin packing, it's advisable that you first get all the things you'll need for the packing process. There's nothing worse than being knee-deep in packing and then discovering you don't have enough boxes or tape and so on. Make a list of all the things you need to buy, and estimate how much you will need for everything, and try to get a bit more just to be safe. You will need boxes, tape, scissors, bubble wrap, wrapping cardboard, labels, markers, and clipboards to make your lists on, amongst other things.
Work towards giving things aways for less clutter
As you start packing, you should have a couple of boxes set aside for the things that you will dispose of. Go in with a determination and a clear mind that you are going to give away anything you know you don't use or need. By doing this, you go into your new home with less clutter, and you also help people who are in need by giving these things away to those who are less fortunate.
Make organized lists and label clearly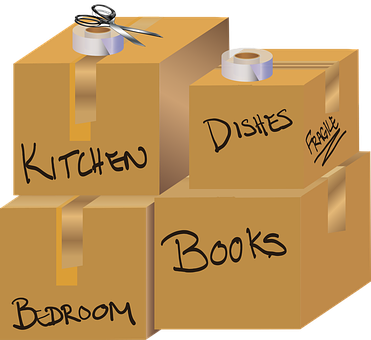 Organize the packing process in a way where you pack room by room, and with each box that you pack, make a list of the items included within it, and label the box clearly with numbers and also, which room it was placed in. This will ensure that nothing gets stolen, and it also makes unpacking so much easier. When the mover comes to take the boxes, they'll know exactly which room to place each box instead of piling them up at the entrance or in just one room.
Give electrical appliances & fixtures priority
Remember that your fixtures and your electrical appliances take the longest to set up, so it only makes sense that you get those moved first. Speak with your moving company and arrange for them to move these things on an earlier date, and coordinate with your plumber, carpenter or electrician accordingly so that they too can get to work in the new space immediately. This way, you won't have the mess of people trying to fix things in with a ton of boxes in the house while you unpack. These items will already be fixed in and you won't have to deal with an overwhelming amount of situations.
Find a reliable cleaning company
We tend to forget how messy a move can be in terms of cleanliness, and we also take for granted how exhausting it can be. This is why it's important for you to get in touch with a professional cleaning company to do the job for you. You'll need them to clean up once the appliances and fixtures have been installed in the new place, for the old place once you've moved everything out, and once to do a thorough cleaning once you have unpacked in your new home.
If you follow the tips provided in this guide, you'll see home much staying organized eliminates a world of stress as you move. When you have the right contacts and a sense of order as you get through everything, the moving process can actually be a lot of fun and done just in time as well.